Heathy & Natural

VEGAN * NO HARMFUL CHEMICALS * CRUELTY FREE
Every Day Care

MOISTURIZE * NOURISH * REPAIR * STRENGTHEN * GROW
Perfect Wig Styling

LACE GLUE & REMOVER * LACE TINT * WAX STICK * THERMAL HEAT PROTECTOR
Heathy & Natural
VEGAN * NO HARMFUL CHEMICALS * CRUELTY FREE
Every Day Care
MOISTURIZE * NOURISH * REPAIR * STRENGTHEN * GROW
Perfect Wig Styling
LACE GLUE & REMOVER * LACE TINT * WAX STICK * THERMAL HEAT PROTECTOR
CLICK SEE VIDEO
COOBER Wholesale & Private Label
ABOUT COOBER BEAUTY
At COOBER BEAUTY, your ONE STOP Professional-Quality and Salon-Grade CURLY HAIR CARE STYLING vendor, available in both PRIVATE LABEL/YOUR BRAND and WHOLESALE, and made specially for AFRO-textured CURLY, WAVY, COILY, COARSE, and KINKY hair types.
ALL products are CRUELTY-FREE (not tested on animals), and FREE of harmful/toxic chemicals. Tested by local U.S. licensed Cosmetologists, Braiders and Salons with more than 90% POSITIVE FEEDBACK.
Available in a Large Selection of products, sizes and variations covering almost all major focus areas:
1. Edges, Braids, Locs and Twists;
2. Instant Fuller and Thicker look edges hairlines + Hides Gray hair/roots (hair loss/thinning/balding and gray hair/roots, for unisex);
3. Wig Installation and Styling;
4. Natural Hair Care and Repair
Whether you are in Retail/E-Commerce or Salon business, we have you COVERED!
KEY BENEFITS and VALUE in addition to high product quality including:
*FREE STANDARD SHIPPING  2-5 business days within 48 states contiguous U.S. (excludes Alaska, Hawaii, and U.S. territories);
*Private Label/ YOUR OWN BRAND; & Wholesale (no label);
*LOW MOQ minimum order QUANTITY (starting as low as 6 qty);
*IN STOCK ready to ship (FAST processing time);
*LARGE SELECTION in product, size and variation (Salon bulk size, Sample/Travel sizes, Retail/E-Commerce and Wholesale);
*Bulk purchase DISCOUNTS/BONUS/$SAVINGS;
*7 DAYS/week sales and after-sales SUPPORT;
*Professional Label LAYOUT DESIGN
We are very THANKFUL that more than 30% New Customers were REFERRALS from our existing customers. We APPRECIATE the opportunities serving each customer and will continue to strive our best to supply HIGH-QUALITY products with EXCELLENT SERVICE and GREAT VALUE!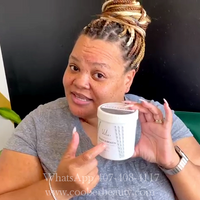 "I am a braider and I use it religiously. I cannot braid anyone's hair unless I'm using this Edge Control." - Josette, master stylist, licensed braider in Florida
This super-hold formula with healthy and natural ingredients of Argan oil, Beeswax, Vitamins (E & D) can quickly tame any tapered area effortless without the fear of sudden reversion, at the same time ensure essential nutrition and protection for your hair.
Works well with both relaxed and natural hair. Strong hold, Non-greasy, Flake-free and No build-up.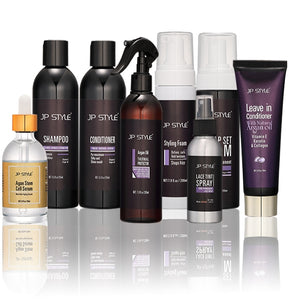 LOVED EVERYTHING! HONESTLY!
I loved everything! Honestly! I tried everything on my long time client. The shampoo and conditioner, thermal heat protectant. hair growth oil, wax stick, and waterproof lace glue and remover and lace tint spray! - From a local beauty salon in Louisiana.
CLICK SEE VIDEO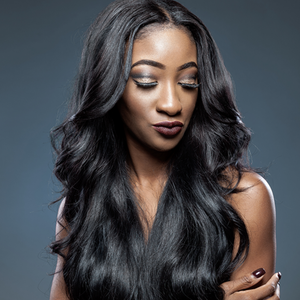 PERFECT WIG STYLING
Lace glue waterproof; Lace glue remover ; Skin Protectant (used with lace glue); Lace tint 3 color shade foam (Light brown, Medium brown, Dark brown); Hair Wax stick/Wig stick/Sleek stick; Thermal heat protector, and more!
CLICK SEE VIDEO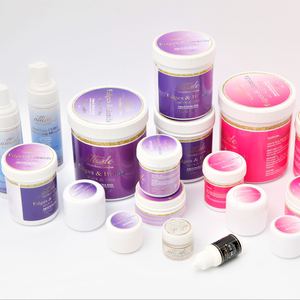 PRIVATE LABEL - YOUR OWN BRAND
We offer PRIVATE LABEL with your logo and brand name. There are lots of demand and business opportunities and money to be made in the beauty industry. Why wait? Start your own branded beauty product collection today!
CLICK SEE VIDEO
Professional Hair Care Styling For Afro Textured Curly Hair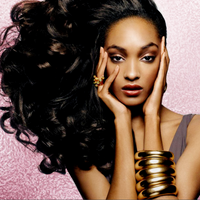 PERFECT WIG STYLING
All you need for that beautiful and glamorous look!
TESTIMONIAL
Lace glue has a strong hold and is waterproof; and I lovedddddd the remover, skin protectant, thermal spray, and lace tint foam too! I know I will have to order them soon. Everything was 10/10
- From a talented and well-respected licensed cosmetologist in Florida.
Testimonials
OMG the hair samples are wonderful!!! Laid my hair down better than any other product I ever used!!! Definitely will be investing!!! Thank you so much!

Rosetta, senior hair stylist, South Carolina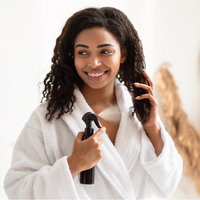 HAIR CARE AND MAINTENANCE
Afro-textured hair types are lower in density and form knots easily, so they are fragile and prone to breakage.
But no worries, we got you covered with plenty of options that would help to protect, repair, and improve the health of your hair!
Hair growth oil; Deep moisturizing Repairing
Shampoo; Deep moisturizing Repairing Conditioner; Moisturizer conditioning Mist; Curl cream ; Leave-in conditioner; Hair mask and more!
Testimonials
Just wanted you to know I sold out of all the edge control! They loved it!

Kimberley, retail business owner, Connecticut
Testimonial
Just letting you know I'm in love with your products and I will be ordering wholesale soon. Thank you so much!

LaShawn, beauty salon owner, Washington